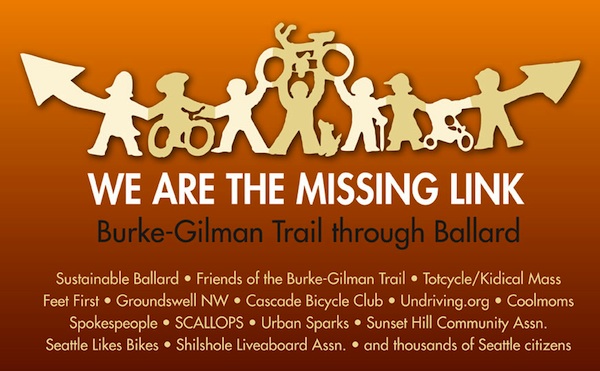 Dear Burke-Gilman TRAIL SUPPORTERS in Ballard and Beyond,
Join us for a quick "flash" action to declare our collective support for completion of the Burke-Gilman Trail Missing Link – from Fred Meyer to the Ballard Locks. Let's demonstrate that the trail is for A L L of us, and that WE ARE THE MISSING LINK! We would be honored to have you stand with us.
In 1997, the Ballard Neighborhood Plan identified completion of the trail as its #2 priority. In 2003, Seattle City Council adopted a preferred route along the rail right-of-way, and directed Seattle Dept. of Transportation to design and seek funding. In spring 2009, SDOT prepared to put the project out to bid – but several business groups filed a lawsuit opposing trail construction. It's time to move on and get the trail built …
Who/What: A gathering of ALL TRAIL SUPPORTERS, be they walkers, skaters, strollers, bicyclers, moms, dads, kids, grannies, for a silent show of support honoring the trail and the decades of hard work it took to get us to this point.
When: Tuesday, October 27, 5:30pm-6:30pm
Where: Shilshole Ave NW, opposite 17th Ave NW, just west of the Ballard Bridge – look for the people with the blinking lights!
How: Walk, bike, run, skate, glide
What Else?: B.Y.O."Blinky" red light if you've got one, and bring your bikes, strollers, walkers, wheelchairs, dogs and skateboards.
We'll have cool orange "WE ARE THE MISSING LINK" T-shirts for the first 100 participants (donations accepted).
Be prepared for inclement weather – rain or shine, we'll be there!
Join us as well for the after-party nearby at Dutch Bike Seattle, 6:30pm, 4421 Shilshole Ave – just east of the Ballard Bridge. Beer and NA drinks will be provided. We will have a grill set up so bring your grillables.
This action supported by Sustainable Ballard, Friends of the Burke-Gilman Trail, Totcycle/Kidical Mass, Feet First, Groundswell NW, Seattle Likes Bikes, Cascade Bicycle Club, Undriving.org, CoolMom, Spokespeople, SCALLOPS, Urban Sparks, Sunset Hill Community Association, Washington Liveaboard Association, and thousands of Seattle citizens …
For more information, contact: Kevin, kcarrab@comcast.net and Vic, vic@sustainableballard.org
Website: bit.ly/wearethelink
[Edited at 11pm - Updated to the version with links.]